Yes. We designed the Rocking Bed to be retrofitted to your current bed. The only beds that won't accommodate the Rocking Bed are sleigh beds. This is because the side of the sleigh would interfere with the rocking motion of the top of the boxspring/foundation.
We built the Rocking Bed using the quietest state-of-the-art motors possible. The noise level is comparable to that of a fan. In fact, the white noise generated may actually help you sleep.
You're no more likely to fall out of the Rocking Bed than a rocking chair.   If a rocking chair presents a challenge, then the rocking bed might not be the right bed for you.
You control the speed of the swaying motion, which can be adjusted with the supplied controler.
The Rocking Bed operates off of standard 110V power and at max uses around 22 Watts.
Putting together The Rocking Bed is not rocket science, hey that was almost a pun there!!
Estimated time is around 1 hour. We are working on a video so that you can see this in detail. And will post it shortly.
It comes with full instructions and full customer service. If it anytime you run into an issue, we're more than happy to FaceTime, or Facebook video answer any questions.
But don't fret! It should be around 45 minutes to an hour to get it set up and you're done.
Very little: about 2 inches maximum on each side (4 inches total) to accommodate the gentle swaying motion.
Yes...   In our newest version that we are targeting to ship Q2 of 2019, the unit will sit on top of your boxspring foundation, and under your mattress.
Yes...   In our newest version that we are targeting to ship Q2 of 2019, the unit will sit on top of your boxspring foundation, and under your mattress.
Yes! The Rocking Bed is built to the standard mattress sizes of Full, Queen and King. You can place your existing mattress on your Rocking Bed or invest in a new mattress for enhanced sleep. 
At this time, we only offer one color as shown.
The rocking motion can be adjusted with the supplied controller. The controller serves also to turn it on and off and setup a timer to shut down. 
This is a great question! Do hammocks or swings make you queasy? If so, the Rocking Bed may not be for you. However, we've found that most people who are apprehensive actually enjoy the Rocking Bed, as long as they don't get queasy on a hammock.
Yes. Simply use your wire controller to shut off the mechanism and sleep on a stationary bed.
We will have a one-year part and Manufacturing warranty. From all of our testing, we don't believe that the end up needing service prior to 5 years. Our current prototype loaded with 700 lb has the equivalent of just under 4 years  And it is running strong.  we engineered the product to be overbuilt. It's Made in America with a lot of heavy material. All told it weighs around 200 pounds.  
We are located in Atlanta, GA.  and we've estimated that the shipping to the east coast will be around $325, west coast is around $560, and $800 USD to London.   Keep in mind that the pallet and bed's weight totals around 400 LBS.
SHIPPING & ORDERING QUESTIONS
Yes, we are able to ship your Rocking Bed overseas.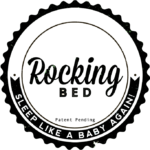 NEWSLETTER SIGNUP
Want to hear the occasional latest news and receive discounts?